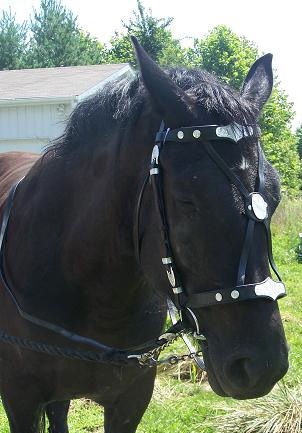 Hurry they go quickly. This unique bridle is perfect for costume classes, maybe medieval. The black bridle crosses over in the front, has circle with silver oval in the middle. It has silver buckles at the bit end of split reins. Black with lots of silver.

Sizes:
Large DraftAvailable
Browband 20 1/2"
Bit-2-Bit 48"-54"
Throatlatch 43"-49"
Noseband 27"-31"
Reins: 70"

Small Draft Unavailable at this time.
Browband -17 1/2"
Bit-2-Bit 38"-46"
Throatlatch 36"-42"
Noseband 26"-30"
Reins 70"