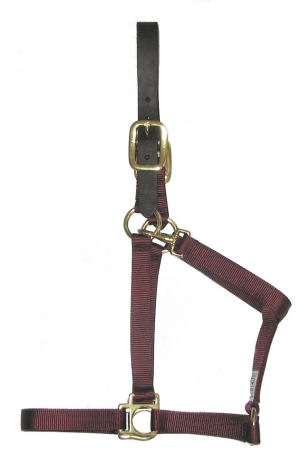 Nylon Halter with Breakaway Crown
Your choice of 24 different colors.
We can do sizes: Draft, Warmblood, Large Horse, Horse, Arab, Pony, Mini
Please go our "Nylon Tack" page (then click on "Nylon Halters") for all available add-ons:
Solid Brass Hardware(+$2.00)
Silvertone Hardware(+$2.00)
Adjustable Nose(+$1.00)
Throatsnap (+$1.00)
Designer Trims(+$7.00)
All over Design Trim(+7.00)
Get an extra "Replacement Breakaway Crown" ($5.00) sold below
Colors available: Red, Orange, Yellow, Kelly Green, Hunter Green, Lime Green, Hot Lime, Royal Blue, Baby Blue, Navy Blue, Aqua, Teal, Turquoise, Purple, Lilac, Black, White, Grey, Gold, Brown, Tan, Hot Pink, Pink, Rose Pink

These are custom made in the USA and will take 2 to 4 weeks. They are shipped within 24 hours from when we receive them.