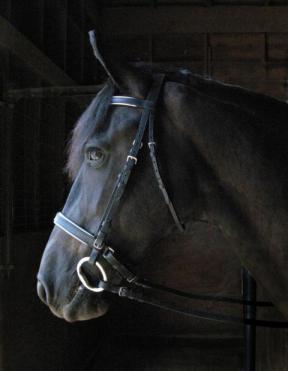 The Concho Dressage Bridle is a stylish dressage bridle with a padded nose, brow, and crown. The Black leather bridle with silver piping on nose and brow has a small silver 3/4"x 3/8" horse ornament at center of the browband. It has a crank style nose. Comes with laced reins. These bridles are made from continental leather from one of the world's major tanners.
Stainless steel hardware.


Bridles are sold without bits.

Color - Black with silver

Sizes:

Draft
Browband-20"
Bit 2 Bit- 44-55"
Throatlatch- 48-54"
Noseband- 28-30"